Glanmore has undergone historic restoration since 1975. Restoration projects and research are always ongoing.
In 2016, Glanmore was honoured to receive the Peter Stokes Restoration Award (Corporate) from the Architectural Conservancy of Ontario in recognition of innovative techniques used during the historic plaster ceiling restoration project .
Glanmore's restoration highlights:
1992-1997 - Mansard Roof System Restoration completed;
2000 - Reproduction sidewalk installed;
2001 - Reproduction veranda installed;
1993-2003 – Landscape Restoration completed;
2011 – 2012 - Investigation, conservation and restoration of decorative plaster ceilings on main floor;
2012 - Restoration of original interior finishes in dining room, reception room, drawing room, servants' hall and main hall ceiling and arch;
2013 – 2014 - Investigation and restoration of interior finishes in breakfast room;
2015 – 2016 - Reproduction of original carpet in halls, stairs and reception room;
2016 – 2017 - Repointing of entire limestone foundation;
2015 – 2019 - Reinstatement of picture rails throughout house.
Research is already underway for the following upcoming restoration projects:
Reproduction of the original fence and front driveway gate;
Reproduction of the original dining room carpet.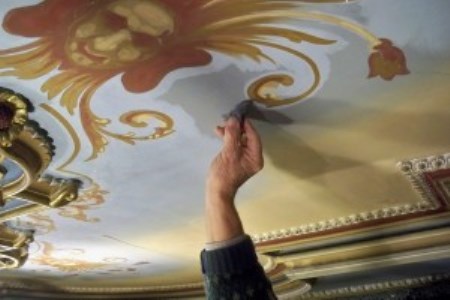 Conservator cleaning fresco ceiling in Glanmore's drawing room.