Details about servants in historic homes are often difficult to document. At Glanmore, research using early correspondence, census, immigration records and oral histories has helped to piece together some information about the servants. This research is on-going.
Census records only reveal details about live-in servants on the specific date of the census. Finding and keeping good domestic servants was often a challenge and it is likely that there was a fairly regular turnover in staffing. Day workers were probably employed at Glanmore as well, although no records pertaining to this have been found.
Sarah Colley
The earliest record of a servant at Glanmore is found in the 1891 census. Sarah Colley, age 34 and born in England is listed as the live-in domestic at Glanmore. The census also reveals that she was Anglican and could read and write.
It is unclear exactly how long Sarah remained in the Phillips employ, however recent research has shown that she married widower James Taylor, a stone mason, in 1895. She was 38 when she married. Sarah and James had one child, a daughter born in 1896, and they continued to live in Belleville after the marriage. Mr. & Mrs. Phillips were witnesses to the marriage which indicates the relationship between Sarah and her employers was quite amicable.
Edith Darne
The 1901 census lists Edith Darne, age 24 and born in Canada as the general servant living at Glanmore. Edith could read and write and her religion is listed as Methodist.
Sarah Howes
The live-in cook at the turn of the century was Sarah Howes. According to oral history, Mrs. Phillips ordered produce from Sarah's parents at the farmer's market. Sarah's younger brother would make a special trip to Glanmore to ensure that their produce was delivered before noon. It is not known how long Sarah Howes worked as a cook at Glanmore.
Eleanor Bowden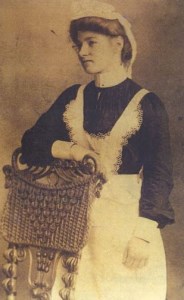 Eleanor Bowden lived and worked at Glanmore as a "Maid of All Work" from 1901 to 1905.
Eleanor was born in England in 1886. Due to an unfortunate family situation, Eleanor was placed in a children's home where she learned domestic skills. In 1900 Eleanor was sent to Canada as a Barnardo Home Child and expected to participate in child labour. Eleanor was 14 years old when she arrived in Canada.
In the late 1800s and early 1900s Dr. T. Barnardo and other social activists in the British Isles brought thousands of disadvantaged children, like Eleanor, to work as household and farm labourers in Canada. They were referred to as 'Home Children.' The history of this practice is complicated; although many Home Children had positive experiences in their new homes, a large number did not.
Eleanor worked for two other households before being placed at Glanmore in mid-1901. Early correspondence indicates that Eleanor's skill as a maid was highly regarded by John and Harriet Phillips. In 1902, Eleanor posed for a photographic portrait wearing her serving uniform. This was likely her best clothing.
Eleanor described her time at Glanmore as "…my happy days…" This, together with the fact she also remained in service at Glanmore longer than was required of her, show that her employers were decent and kind.