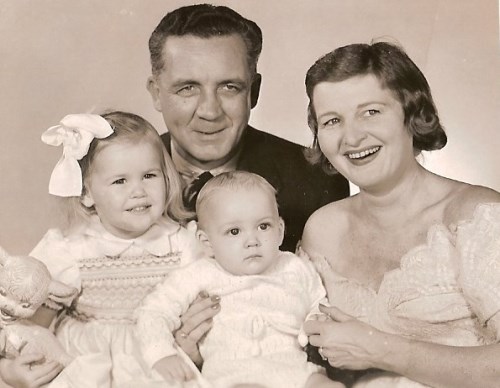 Above: Dr. George Vermilyea Faulkner and Philippa Faulkner with their children
Anne and George Sandford ("Sandy"), ca. 1954
Dr. George Vermilyea Faulkner was born in Foxboro, Ontario (north of Belleville) on June 15th, 1908 to James Albert Faulkner and Helen Aurelia Faulkner. George attended Belleville Collegiate Institute (B.C.I) and went on to study medicine at McGill University in Montréal, Que. (1926-1930). He interned at the Royal Victoria Hospital and eventually worked with a respiratory clinic in London, Ontario and studied silicosis in Northern Ontario mining camps.
George enlisted with the British Army in 1939. His service timeline is as follows:
August 8th, 1939 – enlisted with the East Surrey Regiment (Private)
December 9th, 1939 – 166 Officer Cadet Training Unit
May 17th, 1940 – Commissioned officer
May 18th, 1940 - 8 Bn Argyll and Sutherland Highlanders
May 27th, 1941 – Resigned commission
1943-1944 – volunteered for The Chindits (Long Range Penetration Groups)
Following WWII, Faulkner opened a practice at 19 Campbell Street in Belleville. He also worked with Belleville General Hospital, serving as president of the medical staff and representing the staff on the Hospital Board of Governors.
George married Philippa Burrows in 1946 and they welcomed two children, Anne (b. 1952) and George "Sandy" (b. 1954, d. 2005). A tribute to him in The Intelligencer newspaper dated March 24, 1955 mentions that he was an avid golf enthusiast and quite the bridge player.
George Vermilyea Faulkner passed away unexpectedly in Montreal, Que. on March 23, 1955 at the age of 47. In his short life George collected many military and medical achievements, leaving behind a legacy of dedicated public service.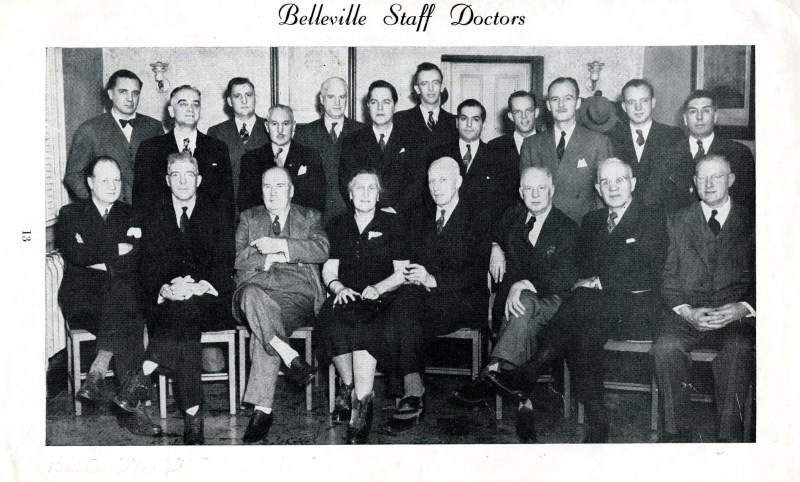 Doctors of Belleville General Hospital, Belleville, Ontario, ca. 1950
Source: Community Archives of Belleville and Hastings County
Back row (left-right): Dr. G.V. Faulkner, Dr. A.C. Locke, Dr. R.T. Potter, Dr. E.G. Kennedy, Dr. R.S. Gibson, Dr. J.R. Scott, Dr. J.H. Forrester, Dr. R.G. Bateman, Dr. R.M. Anderson, Dr. C.H. Walters, Dr. W.B. Beattie, Dr. J.H. Bateman Front row (left-right): Dr. G.H. Stobie, Dr. G.S. Cronk, Dr. R.W. Tennant, Dr. L.B. Mathieson, Dr. Branscombe, Dr. W. Morgan, Dr. V. Blakslee, Dr. A.E. Miles; absent: Dr. F.R. Ross, Dr. J.M. McKay, Dr. E.M. MacDonald
Sources: