Regional Collection
The Regional Collection consists of artifacts primarily from the Belleville area. These artifacts range in date from about 1780 to the present. Many of these objects belonged to or were used by families in our region. Artifacts from this collection are displayed throughout the historic house and used in other local history exhibitions.
The collection includes a wide range of household and personal objects such as:
clothing,
furnishings,
domestic textiles,
tools,
and toys.
You can discover artifacts from our Regional Collection on our online artifact database.


Above: A beaded black silk fichu, ca. 1880s.
This garment was likely worn during the Ordinary or Half-mourning stages.
Regional Collection: Sir Mackenzie Bowell Collection
The Sir Mackenzie Bowell Collection is a historically significant collection of porcelain and Canadian silver within the regional collection. These objects belonged to Sir Mackenzie Bowell (1823-1917). Bowell was a prominent Belleville citizen and businessman who served as Prime Minister of Canada from 1894 to 1896. The collection includes:
Dozens of pieces of Canadian sterling silver flatware and serving utensils;
A 4-piece silver coffee and tea service;
40 pieces of porcelain dinner service.
The silver was a gift to Bowell from Grand Orange Lodge of British North America in honour of his service to them in 1877. The porcelain dinner service was a gift from Queen Victoria upon Bowell's retirement as Prime Minister in 1896.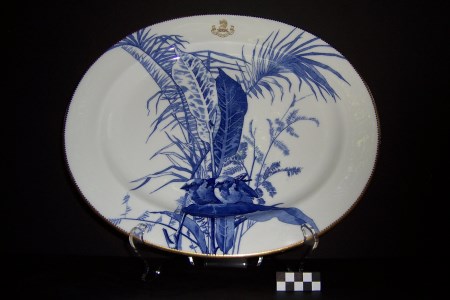 Platter from Sir Mackenzie Bowell Collection.
Regional Collection: William Sawyer Collection
Within the Regional Collection are 10 portraits, mostly of local politicians, painted by William Sawyer(1820-1889). He was an artist based in Montreal and Kingston. He travelled through Eastern Ontario to secure commissions and spent a lot of time in Belleville.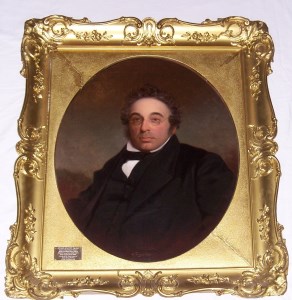 George Benjamin, Canada's first Jewish Member of Parliament.
Painted by Sawyer in 1859.