Glanmore was designated a National Historic Site of Canada in 1969 in recognition of its exceptional Second Empire architecture. The grand interiors of Glanmore, including beautiful hand-painted ceilings and ornate woodwork, complement the exterior architecture.
Local architect Thomas Hanley designed the house for wealthy banker J.P.C. Phillips (1842-1912) and his wife Harriet Dougall Phillips (1839-1915). Construction was completed in 1883.
As a historic house museum, Glanmore has undergone extensive site restoration to accurately exhibit what the house would have looked like when the Phillips family lived at Glanmore in the 1880s.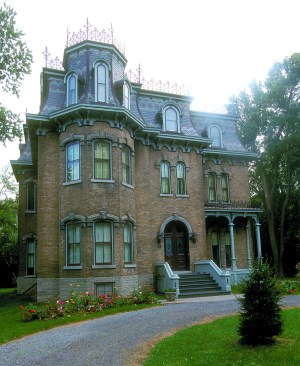 Exterior of Glanmore National Historic Site of Canada.