Animal Paintings by Horatio Couldery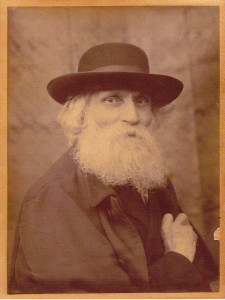 Horatio Henry Couldery (1832-1918)
Horatio Henry Couldery was born in Lewisham, London, England in 1832. He worked as a cabinetmaker but soon abandoned his trade to become an artist and trained at the Royal Academy of Arts in London.
On Dangerous Ground, 1861
In 1861 he exhibited his first piece at the Royal Academy, a charming painting of two tabby kittens discovering a table full of fish. The painting, entitled On Dangerous Ground is part of the Couldery Collection at Glanmore.
Glanmore has 42 of Couldery's animal paintings, making it the largest public collection of his work in the world. The paintings in this collection originally belonged to his brother and sister-in-law, Bertram and Cecilia Couldery and may represent some of their family pets.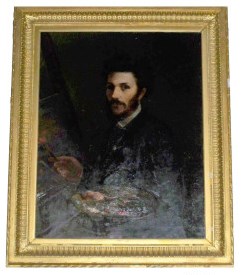 Portrait of Horatio H. Couldery by Cecilia Couldery. Oil on Canvas.
The genre of animal painting was popularized by Sir Edwin Landseer (1802-1873), who was a favoured artist of Queen Victoria. Almost all of Landseer's dog paintings were published as engravings which sold by the hundreds. By the 1860's there was a large public demand for portraits of dogs and other pets by Landseer and other skilled artists such as Horatio Couldery.
Considered one of England's preeminent Victorian animal artists, Couldery showed more than 20 paintings at the Royal Academy. His work was also exhibited at the British Institution, the Royal Society of British Artists as well as many other galleries. He worked as a professional artist, illustrating children's books and greeting cards as well as creating commissioned pieces.
Couldery painted with a sense of humour, often portraying animals in mischievous situations that successfully captured the character and personality of beloved pets. He was noted for his skillful depiction of the texture of animal fur in minute detail. After an 1875 exhibition at the Royal Academy noted Victorian art critic John Ruskin gave high praise for Couldery's work, stating that his cat painting was,
"...quite the most skillful piece of minutiae and Dureresque painting in the exhibition - (it cannot rightly be seen without a lens): and in its sympathy with kitty nature...unsurpassable."
Widowed from his first wife Rachel at a very young age, he later married Ellen Angus Homes in 1874. They had six children. Couldery was a prolific artist and he continued to flourish as a painter until around 1893. He died in Sydenham, County of Kent, England in 1918.