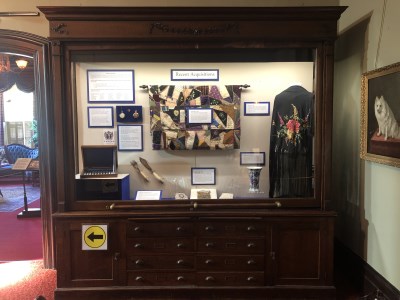 Glanmore's Recent Acquisitions Case
Glanmore is privileged to accept many new artifacts into the Museum's collections through the generosity of the public. This Recent Acquisitions Exhibit has been created to display a variety of recently donated artifacts.
Glanmore National Historic Site strives to collect, preserve, research, display, and interpret objects that illustrate:
The history of the Belleville region
The lifestyle of the original residents: J.C.P. and Harriet Phillips
The commemorative elements associated with Glanmore's designation as a national historic site of Canada
If you have an object that you would like to donate to the museum please contact the Manager of Museum Services or Museum Administrative and Collections Assistant.
Explore the artifacts featured in the Recent Acquisitions case below!
Election poster for Sir Gilbert Parker, ca. 1900

Sir Gilbert Parker (1862-1932)
Sir Gilbert Parker was born in Camden East, Ontario. He is best known for his novels about Canadian history, publishing over 50 books throughout his career. Parker taught at schools in Hastings County and Belleville at the Ontario Institute for the Deaf. In 1889 he moved to England where his reputation as a writer grew and he became interested in politics. In 1895 Parker married an American heiress, Amy Vantine. He was elected into British Parliament in 1900 which took time away from his writing. However, in 1902 Parker was knighted for his literary achievements.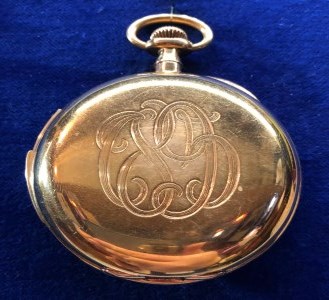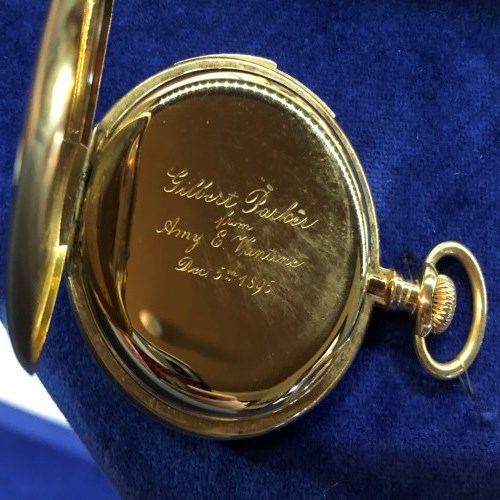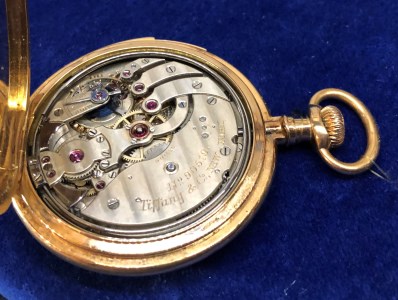 Pocket watch, circa 1895
Amy Vantine gave Gilbert Parker this 18K gold Tiffany & Co. pocket watch on their wedding day. This is a Hunter Case pocket watch, which refers to the spring hinged metal cover that closes to protect the watch face. The watch is engraved with Parker's initials and the date 1895.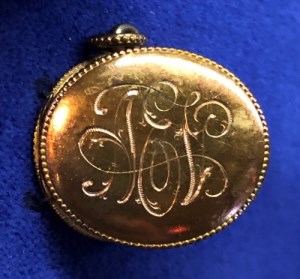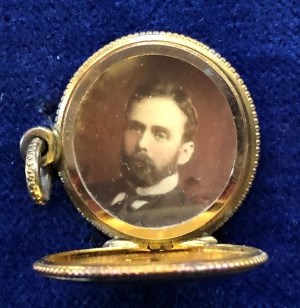 Locket with photo of Sir Gilbert Parker, 1894.
This picture locket was gifted to Amy Vantine from her husband Gilbert Parker. The hinged locket features Vantine's initials on the front and opens to a colourized photo of Gilbert himself. Inside the locket is an engraved date that reads Dec 31st 1894.


Pocket watch belonging to Sir Gilbert Parker
Open face pocket watches, such as this one, were the most common type to be carried by Victorian gentlemen. It was made by Elgin, one of the finest 19th century watch companies. The back of the pocket watch features Parker's initials.
More Recent Acquisitions from the Regional Collection!


Fish slice and fork, circa 1890 - 1910
The concept of defined courses when dining was introduced in the 1850s. This led to the creation of over 200 various utensil types, each created for specific foods or courses. The size and configuration of the engraved fork and knife seen here provide the best means for serving fish. The utensils are made of silver and ivory.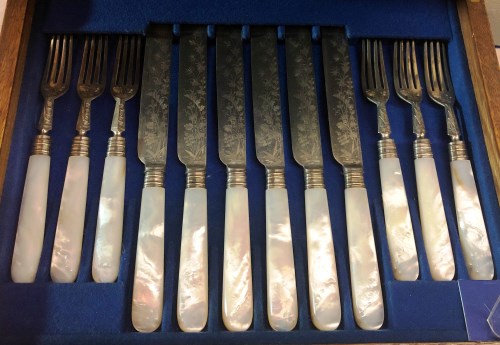 Fish flatware set, circa 1880s
This six piece fish set features mother-of-pearl handles and engraved scrolling leaves. In 1886 this flatware service was brought to Belleville and gifted to David Scott and his family by his two sisters who were visiting him from Scotland.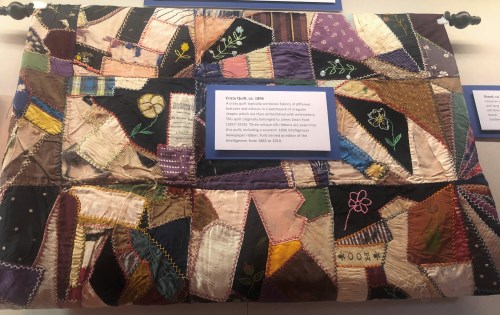 Crazy quilt, circa 1890s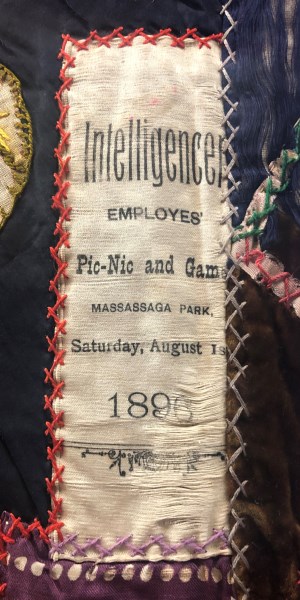 Intelligencer ribbon on crazy quilt, 1896.
For crazy quilts, fabrics of different textures and colours were sewn together to make mismatched blocks. This quilt originally belonged to James Dean Ford (1857-1928) who was the editor of Belleville's Intelligencer newspaper between 1885 and 1910. There are three unique silk souvenir ribbons sewn into this quilt, including an 1896 Intelligencer ribbon.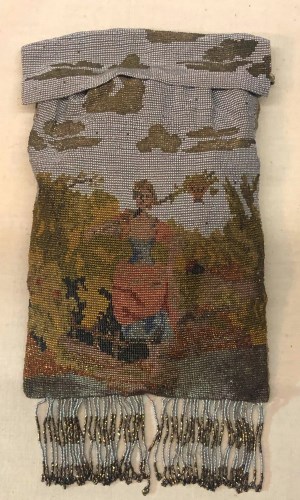 Beaded purse, circa 1880-1900
The Victorian era brought the rise of handcrafted purses and reticules. A reticule, similar to a purse, is a small handbag that had drawstrings at the top and was typically beaded or embroidered with designs. This reticule-style purse shows a pastoral scene made completely from micro metallic beads, including the 4 cm long fringe. Images on purses, such as this one of a shepherdess, were often inspired by paintings.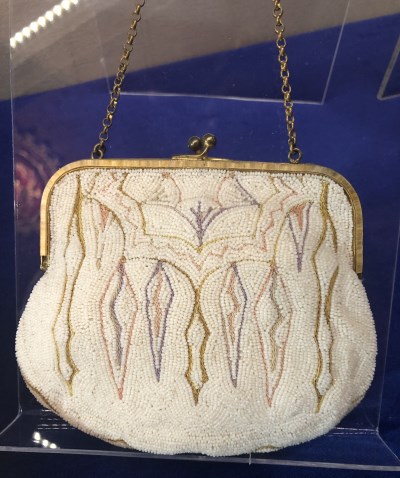 Beaded purse, circa 1920s
This beaded designer purse has a gold clasp and metal frame with a chain handle. The beadwork and embroidery pattern are reminiscent of the Art Deco style. This purse, like the two others displayed next to it, belonged to Edna Elizabeth Robertson, a local Belleville woman who lived at 52 Queen Street.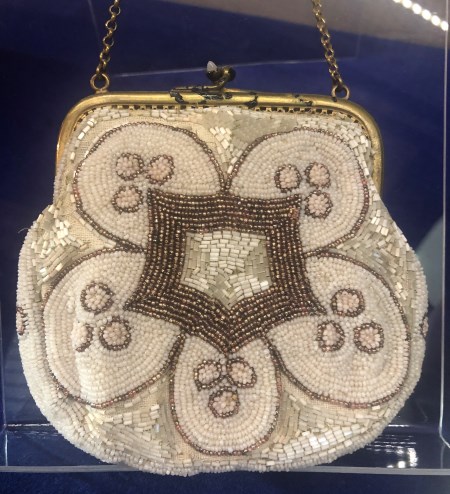 Beaded purse, circa 1910-1920s
The beading on this purse forms a geometric floral design using small bronze and beige beads. This purse has a gold metal frame and a clasp with an attached chain. The inside has a small pocket that holds a rectangular mirror.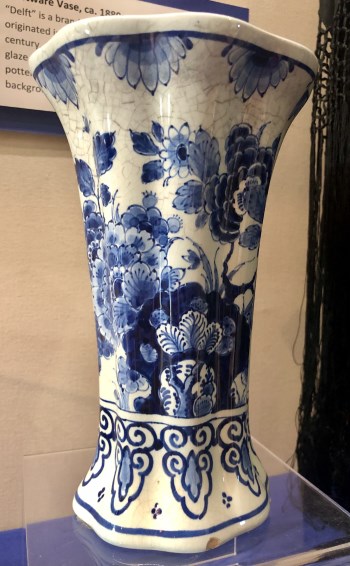 Delftware vase, circa 1880s
"Delftware" now refers to a style of tin-glazed ceramics which originated in the city of Delft, Netherlands and rose to cultural prominence beginning in the 17th century. These ceramics are unique for their coat of tin glaze, which is applied to each piece after it is fired in a kiln. Hallmarks of Delft pottery are the blue and white colours and the plant designs. The only remaining factory that still produces this style of ceramics is known as the Royal Delft, located in Rotterdam.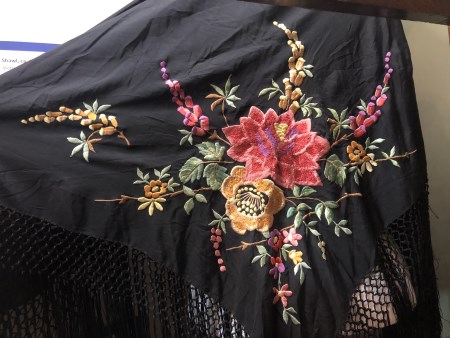 Shawl, circa 1890 - 1910
Victorian shawls were fashionable strips of material that often displayed hand embroidery and long fringes. A colourful raised floral design can be seen on the corner of this black silk shawl. This shawl came to the Belleville area with the same Scott sisters who brought the flatware and fish sets to their brother David.