Hannah's Thoughts On The Wellington County Museum & Archives Travelling Exhibit My Story, My Tattoo*
*On display at Glanmore until May 1st, 2022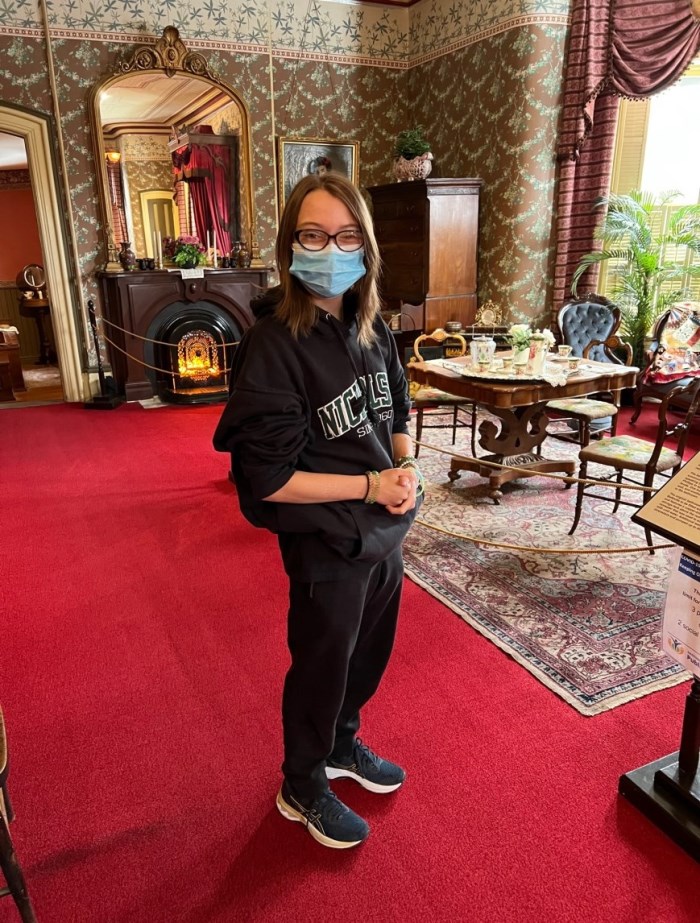 Glanmore's co-op student Hannah in the Master/Principal Bedroom.
When I first began to look around the exhibit, there was plenty to inquire about as I first saw all the photographs of people with their beautiful body modification. I decided to first have a look around before I began to read the information plaques. Before I could read too much, I was introduced to the word "scarification" - used as a traditional art form in various cultures, mostly seen in parts of Africa. This activity often symbolizes growing into adulthood or as a symbol of fertility.
Besides learning about scarification in African cultures, some of my favourite tattoos come from the Indigenous cultures. I learned that tattoos are very important to women of Inuit culture, often earning them from completing life accomplishments and personal talents. I thought this was a beautiful practice, and enjoyed seeing these women with their powerful artistic messages. Their tattoos consist of many lined and dotted designs on the chin, cheeks and forehead, each a symbol of some kind, with the first lines on the chin symbolizing their womanhood.
When moving on to the photographs on the wall, it was cool to see so many different individuals with the stories of their tattoos. I managed to pick out a couple favourites such as Terry Flice (Belwood) and Rob O'Brien (Elora.) Terry was a Canadian Air Force veteran, having served 22 years and gaining 13 tattoos along the way from 1980 to 2014. All his tattoos had a deep meaning to his life, including two green leaves to represent his daughters, with him as a fall leaf. His four grandsons each had a feather to represent them, one with a special tattoo to represent his overcoming of leukemia.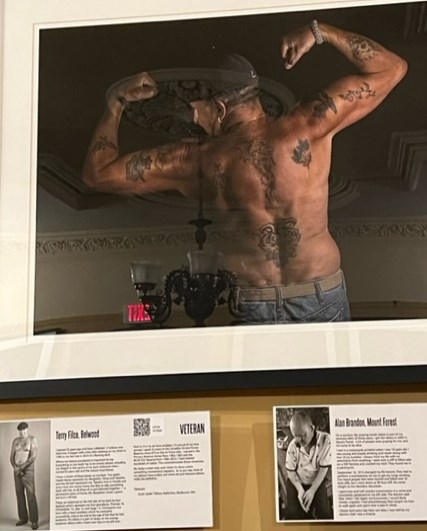 Above: Photograph of Terry Flice (Belwood, Ontario)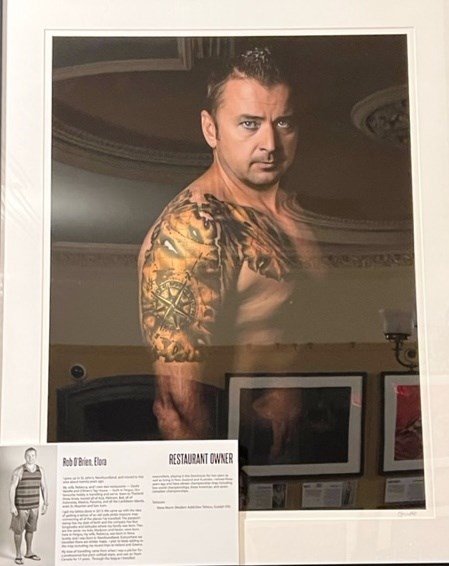 Above: Photograph of Rob O'Brien (Elora, Ontario)
Rob was also a personal favourite of mine. He is a restaurant owner who grew up in St. Johns, Newfoundland. His tattoo was an eccentric pirate treasure map of all the places he's travelled, including Thailand, Asia, Vietnam, Bali, Indonesia, Mexico, Panama, the Caribbean islands, Ireland and Greece (so far). He was also a professional softball pitcher of 17 years winning eleven Championships.
My Story, My Tattoo visiting from the Wellington County Museum and Archives will be on display at Glanmore until May 1st, 2022. Visits are included in regular admission fees and can be booked in person or online at https://calendar.glanmore.ca/default/Month