This week 400 artifacts were added to Glanmore's online artifacts database. To date almost 3,000 artifacts from Glanmore's collections have been made available online since 2017.
As one could imagine, keeping track of thousands of objects can be quite the task. Artifacts are numbered, catalogued and photographed to ensure Glanmore staff can maintain intellectual control of the collection.
Digitizing Glanmore's artifact collections is very important as it allows staff to easily inventory and care for these artifacts and allows for increased accessibility of the collections when they are shared online.
Do you have an object relating to Belleville's history or an interesting object you wish to donate? Contact us at 613-962-2329 ext. 3650 or glanmoreinfo@belleville.ca
Here are some collection highlights from our most recent upload: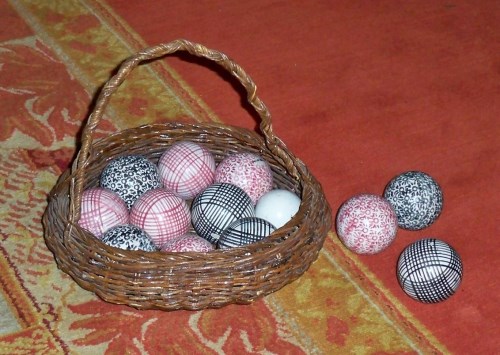 Carpet Balls, ca. 1870s-1900
984.011.001 a-m
Carpet balls were a common parlour game in the Victorian Era. Think of bocce ball, but much more delicate as the balls are made of porcelain. This set is on display in Glanmore's south drawing room, and were purchased by the donor in Trenton in 1969.

Clothes brush, ca. 1880-1910
984.012.001
Clothing brushes or garment brushes were used to clean the surface of clothing. Clothing made of wool or other fabrics can be difficult to maintain and in many cases frequent washing is discouraged. Clothing brushes allowed people to clean dirt, hair, and lint off of garments without having to wash them which would increase the longevity of the garment.
Tickell & Sons operated as a furniture factory and storefront, and also provided funeral and undertaking services in downtown Belleville from 1858 and into the 1920s. Owner G.S. Tickell also served as Mayor of Belleville in 1890.

Belt, ca. 1920s
984.014.003
This belt belonged to Chief Lynch from the Belleville Fire Department. It is currently on display at the Belleville Fire and Emergency Services Headquarters at 60 Bettes Street in Belleville, Ontario.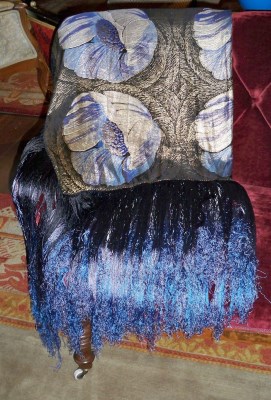 Shawl, ca. 1900
984.010.003
This shawl is made of silk, cotton and metallic thread. It has a stunning flower motif across the whole of the shawl with long, brilliant blue, black and metallic tassels that flow from the edges. This shawl is currently on display in Glanmore's north drawing room.