Jennifer Lyons, Manager of Museum Services
What is your favourite artifact in the Museum?
Being new to the museum, I really look forward to learning more about these phenomenal collections; but I am immediately drawn to the portrait of Bertram and Cecilia Couldery (attributed to Cecilia Couldery). Part portrait, part landscape, the fantastic winter garb, and an almost mirrored-effect with the couple; it is a striking work of art.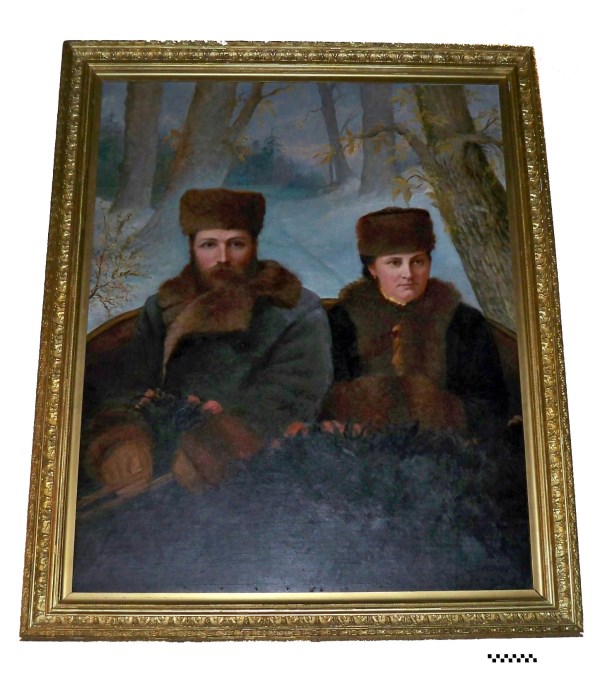 A large oil on canvas painting of Bertram and Cecilia Couldery seated in a sleigh with a winter scene behind them. This is a close-up view copied from an original photograph.
What movie can you watch over and over again?
The BBC's Pride and Prejudice mini-series (1995). Cliché perhaps, but I love it and have dedicated many a weekend to it over the years. As I age, different characters grab my affection. I'd say I'm in a Mrs. Bennet phase right now. I really can't think of Austen's characters as any other than the actors who play them here.
What superpower would you most like to have?
Time Travel! That would be a big help in my line of work. No reliable primary source? No problem! Plus, I'd really love to visit some people I dearly miss.
Melissa Wakeling, Education and Marketing Coordinator
Apart from Glanmore, what is your favourite museum?
I am a huge fan of the Tenement Museum in New York City. I love the way they use different apartments in the historic building to tell immigrant stories from different time periods that represent different immigrant waves while telling the stories of actual people that lived in the apartments.
Do you think there was enough room on the door for both Jack and Rose at the end of Titanic?
Yes I believe it the door could have held them both. I was bothered by this for a long time.
If you could only eat one food for the rest of your life what would it be?
Cheese fondue - there is nothing better than bread dipped in melted cheese, except maybe chocolate.
Danielle McMahon-Jones, Exhibit Development Coordinator
What is your favourite artifact in the Museum?
My favourite artifact in Glanmore's collections is the Dutch secretaire in the South Drawing Room. It dates from the mid-1700s and is an outstanding example of marquetry. The craftsmanship is truly wonderful to behold, it is pure artistry. Thinking about the hours it took to craft something like that blows my mind!!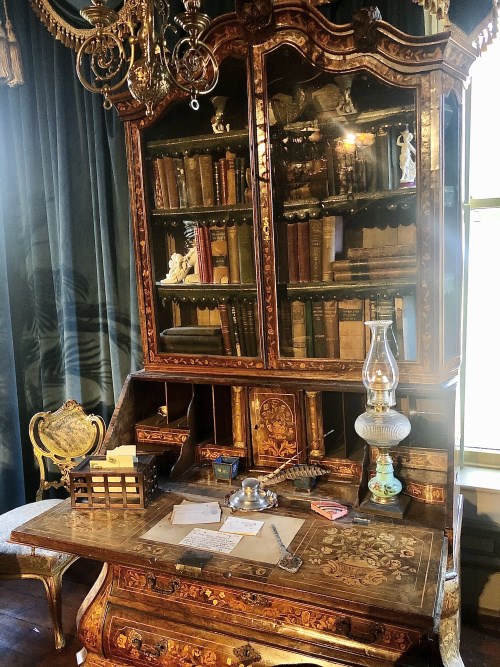 Above and below: Dutch Marquetry secretaire desk and bookcase, ca. 1760s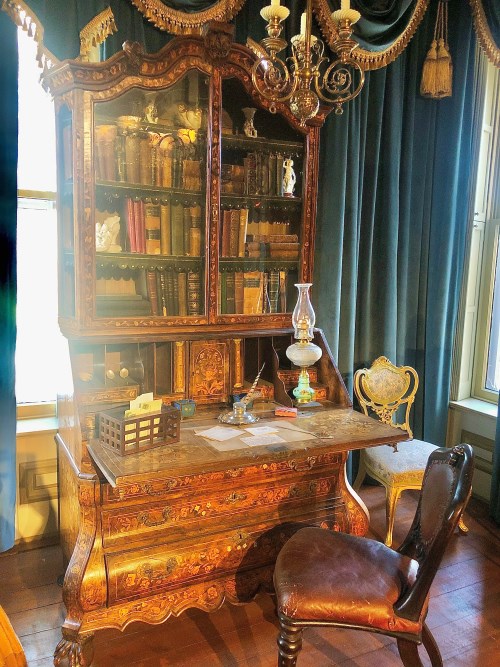 What is your favourite part of your job?
My favourite part of my job is discovering artifacts in the collection I have never seen before. It inspires me to develop future exhibits around those artifacts and their themes.
I also love watching visitors get excited about Glanmore and I love providing an enjoyable experience for them!!
What movie can you watch over and over again?
Cameron Crowe's 1989 film Say Anything. It has everything - the Cusack siblings? Check. Ione Skye? Check. John Mahoney? check. A killer soundtrack? Check. Scenes in a mall? Check. Existential teen neuroses? Check. Killer one-liners? Check x 1000.
Diane Court: "Nobody thinks it will work, do they?"
Lloyd Dobler: "No. But you just described every great success story."
Dave Cox, Museum Technician
How did you get into the museum field?
I have always been interested in history and museums. I didn't occur to me as a career path at first though. While I was working as a machinist, my interest in historic cultures and traditions lead me to take a basic blacksmithing course. I had started making some historic reproductions of Dark Age domestic artifacts (weird, I know).
A friend, enrolled in a museum studies program, approached me about borrowing some objects for a student exhibit. It was through him that I learned about that program and realized that museums could be a realistic option for me.
What did you want to be when you grew up?
There was a time when I dreamt of being a Muppet Puppeteer!
What was your favourite childhood toy?
LEGO- spent hours building and playing. It's a wonderful item for allowing anyone to create things and use their imagination. Love LEGO!
Meaghan Eckersley, Museum Administrative and Collections Assistant
What did you want to be when you grew up?
I was the only kid in my grade one class who wanted to be an archaeologist when she grew up. I painted a picture of myself with my trowel, digging in some dirt. My mother (an archaeologist herself) had the proof proudly hanging in her office until she retired.
I really enjoyed all my archaeology classes and field school in university but museums had my heart and I've never looked back.
What movie can you watch over and over again?
A League of Their Own is a movie I can recite line-by-line and as an avid baseball player myself, watched it before the season began every single year (and multiple times in between). I look forward to being able to watch it with my daughter one day and my best friend and long-time baseball buddy can attest to the fact that I really do like the high ones.
Is a hot dog a sandwich? Why or why not?
I may catch some heat for this one, but I would say that yes, a hot dog is a sandwich. Merriam-Webster defines a sandwich as: two or more slices of bread or a split roll having a filling in between. So if there's a bun on that dogger then a sandwich it is!